---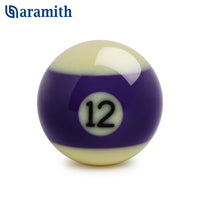 Product features:

High longevity: The Premium resin with Vitrotech technology hardens and vitrifies the surface for durable brightness
Low yearly table cost: Smooth surface reduces drastically the table cloth wear resulting in far less cloth and ball replacement
Made of Aramith Premium: Aramith Phenolic resin with high impact resistance and prolonged longevity
High-quality standards for 8 criteria: density, balance, diameter, roundness, color, glossiness, hardness, weight
Product specifications:
Ball number: #12

Ball diameter: 2 1/4" (57.2 mm)
Box weight: 6 oz (170 gr)
Made in Belgium
For several decades Belgian Aramith Billiard balls have enjoyed a legendary reputation for outstanding endurance and uncompromised quality. Used by over 85% of players worldwide, they are recognized as the reference of the industry.

Made by Saluc in Belgium, Aramith excellence is the result of a high-tech process that combines the unmatched characteristics of Aramith resin with fine Belgian craftsmanship.
Their consistently reliable performance guarantees players the pleasure of razor-sharp precision. Their exceptionally long product life offers the table owner the lowest ball cost on an annual basis. That is how Aramith for almost half a century gained its legendary reputation as signature for true and unrivaled quality.
First name
Last name
Submit
Account form fields
Data were successfully stored
Something went wrong, please try again
These fields can not be empty, must be checked, or have to be valid